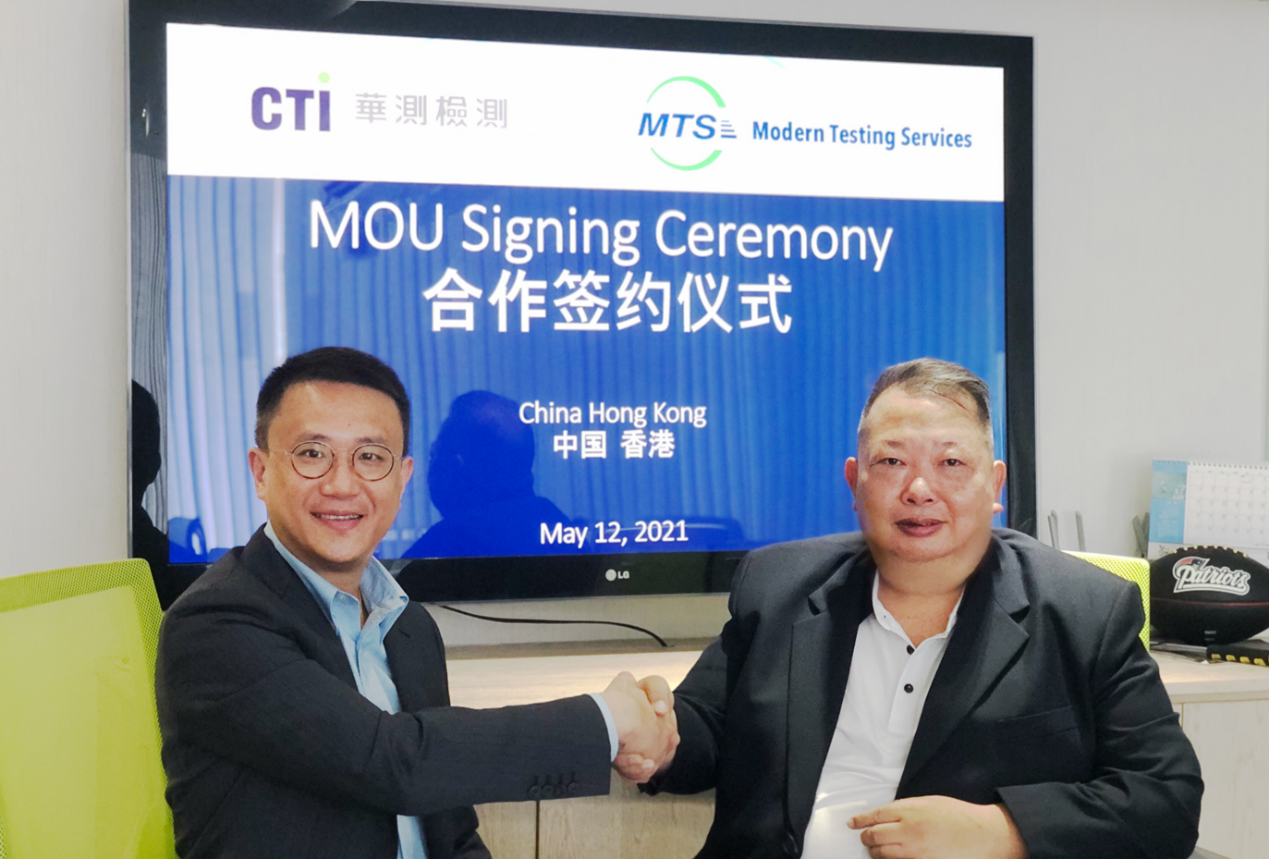 Centre Testing International (CTI) and Modern Testing Services (MTS) are pleased to announce the signing of a memorandum of understanding (MOU) on 12th May 2021 for the collaboration of laboratory services to expand the global footprint of both entities' consumer product quality assurance services.
This new partnership establishes an agreement to jointly work together in the development and delivery of cutting-edge QA/QC solutions to the consumer products industry across the globe. If you would like to learn more about the partnership between CTI and MTS, please contact us at hongkong@cti-cert.com
About MTS
Modern Testing Services (MTS) was founded in 2006 as an independent consumer products quality assurance company specializing in product testing, inspection, and QA/QC services. Today, MTS sets its footprint in more than 19 worldwide locations comprised of some of the most technically strong and innovative minds in the industry. The mission of MTS is to deliver accurate, efficient, and cost-effective technical service with the highest level of integrity to ensure the quality and safety of consumer products.
About CTI
Centre Testing International Co., Ltd. (CTI) is the pioneer and leader in the TIC Industry which provides one-stop solutions on testing, inspection, certification, calibration, audit, training & technical services. CTI is committed to deliver trust between Government, enterprise and customers. Our mission "Build Trust for Better Life" is to ensure healthier, safer, environmentally-friendly and higher-quality development.
Established in 2003, headquarter in Shenzhen China, CTI is the first listed company in the TIC industry in China (stock code: 300012). With more than 10,000 employees, operating a network of more than 260 offices and 150 laboratories in over 70 cities of 10 countries and regions around the world. Our core capabilities and services cover different industries and product categories, including but not limited to : textiles & apparels, footwear, bags & accessories, toys & hardgoods, electronic & electrical appliances, medical care, agriculture and food, cosmetics & daily chemical products, petrochemicals, environment, building materials & construction works, industrial equipment & manufacturing, rail transit, automotive & aviation materials, shipping and e-commerce.
CTI is accredited laboratory of the China Compulsory Certification (CCC), the China National Accreditation Service for Conformity Assessment (CNAS) and the China Metrology Accreditation (CMA) in China. Meanwhile, CTI is also the Notify Body (NB) in Europe, national certification company in Singapore, USA, UK, Canada, Norway, Mexico, and Germany. Leveraging worldwide network and authoritative credibility, CTI issues more than 2 million testing and certification reports each year, and serves more than 100,000 clients, including over 100 of the World's Top 500 companies.
CTI services will be always by your side.