In 2021, Our performance:
Developed

14

quality training courses
Quality training covered

66,759

employees
The total course hours are

41,569.63

hours
1. Enhancing Professional Strength
We are not only a China Compulsory Certification (CCC) designated certification body, China National Accreditation Service for Conformity Assessment (CNAS) and China Metrology Accreditation (CMA) institutions. We are also the EU Notified Body (NB) designated certification party and Singapore accredited national certification body. We have been approved by the US, UK, Canada, Norway, Mexico, Germany & other overseas national authorities and authorized cooperation. Based on the global service network and our authority & credibility, CTI can issue more than 2 million testing and certification reports per year.
In 2021, we officially became an APSCA FULL MEMBER, EU CE certification body of PPE product, FOSTA accredited inspection agency, authorized testing agency of South African National Bureau of standards, authorized verification agency by International Climate Bond Initiative (CBI). In the meanwhile, we have obtained the "CCC certification" of the Ministry of agriculture. 16 laboratories were rated as "farmland quality standard laboratory of the Ministry of Agriculture and Rural Affairs". With more comprehensive qualification and more professional level, we will provide our customers with better services.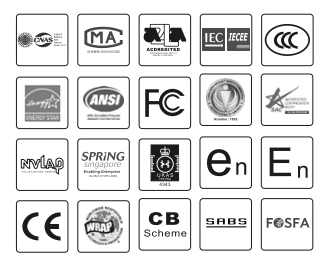 2. Quality Management System
In terms of quality monitoring system, we have established a graded system. At the Group level, we set up the QHSE department to coordinate and take charge of the Group's quality control matters. At the level of each business unit, subsidiary and service station, each level is supplemented and formulated according to their respective business features, relevant systems and strengthen quality control.
In order to ensure that the testing or calibration activities engaged in the laboratory are compliance with laws and regulations, the guidelines and rules of China National Accreditation Service for Conformity Assessment (CNAS) and China Metrology Certification (CMA). In accordance with ISO/IEC 17025, ISO/IEC 17020, Laboratory Qualification Accreditation Review Guidelines and the company's internal Quality Supervision and Management Measures of the Group and Management Procedures of Laboratory Risk and Opportunity, we perform quality risks assessment, evaluation and following control. We carry out quality supervision and inspection every year. We also adopt hierarchical management of laboratories according to the degree of risk. We request the person in charge of the laboratory and the person in charge of the product line being responsible for quality control to submit a rectification plan for the quality risks found and the rectification should be strictly completed. This year's quality supervision and inspection covered 105 laboratories and more than 1,500 reports.We continuously promote our own ISO 9001 Quality Management System certification work. During the reporting period, 10 subsidiaries have passed the Quality Management System certification. As of the end of 2021, the subsidiary certified for ISO 9001 Quality Management System has reached 36.
Regular high-quality training for quality professionals is the necessary measures to ensure the effectiveness of CTI Laboratories and its report and results. In 2021, we will adhere to the principles and regulations of CTI Group's Management Measures for Quality Professionals. It carries out training in "online + offline" approach and develop "New Employee Onboarding - Chapter of Quality" and "Laboratory Quality Supervision and Management", "Measures of Laboratory Supervision and Management"documented advertisement, "Quality and Technical Training Course of CTI Group" and other courses of laboratory accreditation/qualification accreditation internal auditor training. 6 online trainings and 11 offline trainings were held in this year and the overall satisfaction of trainees feedback was 95.85%.
3. Guarantee Independence, Impartiality and Honesty
"Integrity" is at the top of our values, and "independence", "impartiality" and "honesty" are the essential requirements for our business. Therefore, we have established Procedures for Ensuring Independence, Impartiality and Honesty and Management Procedures of Certification Activities Fairness. We strictly prohibit employees from participating in any activities that affect the independence, impartiality and integrity of inspection and testing work, insist on independent, objective and truthful reporting of testing and calibration results. We ensure that testing and certification results are not affected by the external parties.
Specific measures taking to ensure independence, impartiality and honesty include, but are not limited to:
Top management takes the lead in implementing the impartiality statement

Publicity and impartiality statement for new employee induction training

Issued the impartiality process to the public and accepted the supervision of all parties from the society

Confirm that the employee has no conflict of interest before taking up the job

Laboratory quality and technical activities are not interfered by administrative staff

Technical personnel are responsible for the test data, and some special professional fields are responsible for the authenticity of test data and reports for life

The premise of reaching a service agreement is not to promise "100% success"
4. Tamper Proof System of Experimental Data
In order to avoid tampering of experimental data, CTI uses the LIMS system to ensure that all operations will be completed via online system. The LIMS system uses codes & barcodes to track the samples in the process of circulation, so that most of information including the product brands, manufacturers and other labels are invisible, so that the involved personnel in each business link cannot know the actual provider of the sample or the customer who needs it. Fraudulent behaviors such as data modification can be avoided effectively. On the other hand, all original records and data are needed to be uploaded or automatically captured by the LIMS system. Once the data was generated in electronic format, it could not be tampered. This electronic format avoids the collusion of various links to falsify data effectively. Even if there was any amendment, modification history will be recorded in the system, which is convenient for the quality management department to discover abnormalities.