As of the end of 2021, there were 11,091 employees at CTI. We have counted the number of employees separately, by gender, nationality, education background, age, etc., for the ease of refined management.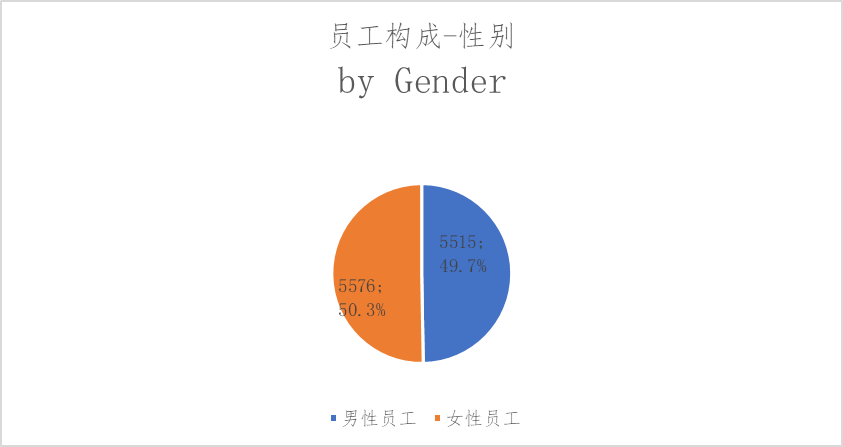 | | | |
| --- | --- | --- |
| By Gender | Number | Percentage (%) |
| Male employees | 5,515 | 49.7 |
| Female employees | 5,576 | 50.3 |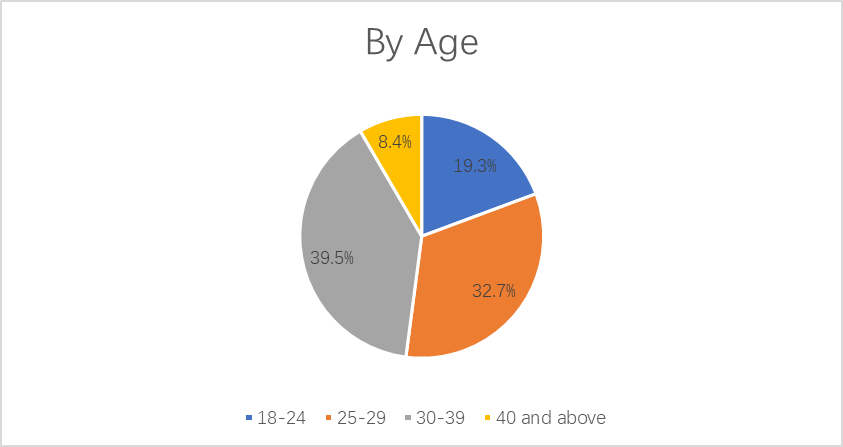 | | | |
| --- | --- | --- |
| By Age | Number | Percentage (%) |
| 18-24 | 2,144 | 19.33 |
| 25-29 | 3,632 | 32.75 |
| 30-39 | 4,382 | 39.51 |
| 40 and above | 933 | 8.41 |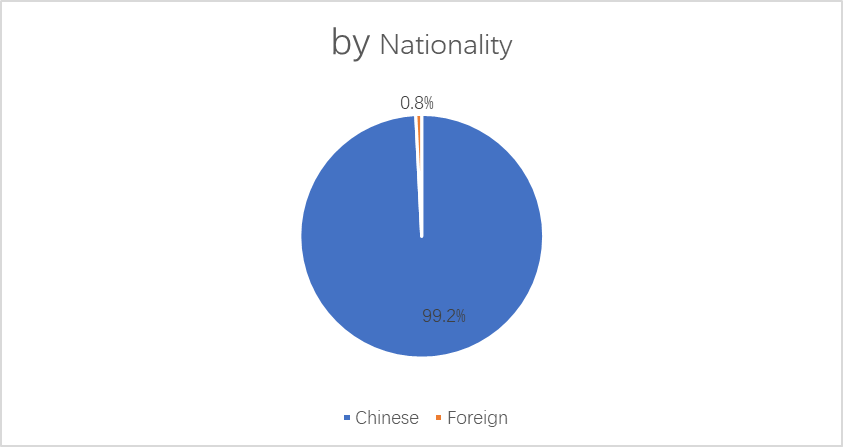 | | | |
| --- | --- | --- |
| | Number | Percentage (%) |
| Chinese employees | 11,005 | 99.2 |
| Foreign employees | 86 | 0.8 |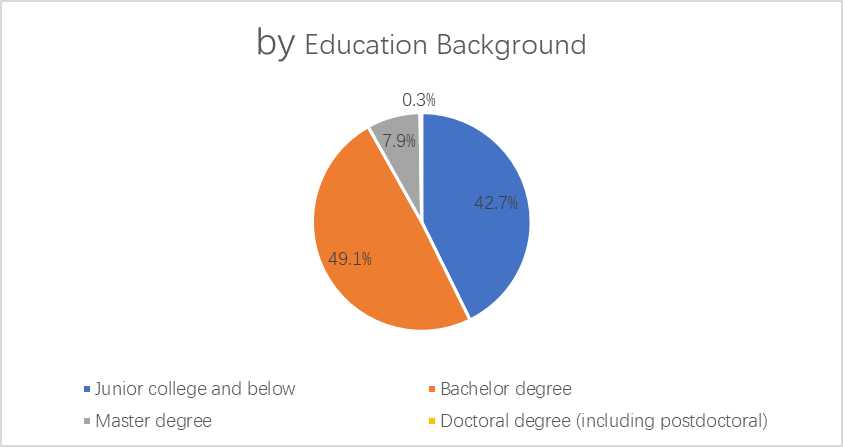 | | | |
| --- | --- | --- |
| By education background | Number | Percentage (%) |
| Junior college and below | 4,737 | 42.7 |
| Bachelor degree | 5,449 | 49.1 |
| Master degree | 877 | 7.9 |
| Doctoral degree (including postdoctoral) | 28 | 0.3 |
| | | |
| --- | --- | --- |
| By Category | Number | Percentage (%) |
| Technical staff | 4,256 | 38.4 |
| Production staff | 3,351 | 30.2 |
| Salesman | 2,724 | 24.6 |
| Administrative staff | 589 | 5.3 |
| Financial personnel | 171 | 1.5 |
1. Fair Recruitment
For the purpose of fair, open and just recruitment, we have developed a series of regulations and measures such as the Group Recruitment Management Regulations, the Employee Onboarding Management Regulations, the Post-probation Assessment Management Regulations, and the Qualification Management Regulations. During the reporting period, we formulated the Human Rights Policy in accordance with the Universal Declaration of Human Rights, the Ten Principles of the United Nations Global Compact and the International Labor Organization Declaration on Fundamental Principles and Rights at Work. We have zero tolerance for any form of harassment, abuse and threats in the workplace and any work-related environment. In particular child labor is strictly prohibited and employees (especially female employees) are protected from unfair treatment and retaliation.
Local recruitment. We have been promoting the localization of overseas employees with a positive attitude, insisting on localized recruitment and management of overseas employees. In 2021, the total number of foreign employees employed was 84, and the localization rate of overseas employees was 99%.
Multi-platform recruitment. We recruit via a variety of recruitment platforms to ensure fairness and transparency. Such platforms include 51job.com, Zhaopin.com, Zhipin.com, Liepin.com, Job1001.com, our official website and internal recruitment. In 2021, we launched a recruitment management system that integrates functions such as personnel needs, internal recommendation, and recruitment management, effectively improving recruitment efficiency.
Recruitment Honor
Our outstanding human resource management capabilities are recognized by industry professional organization:
| | | |
| --- | --- | --- |
| Date | Award | Issuing Authority |
| 2021.09 | 2021 Human Resource Management Excellence Award | 51job which is a professional human resource service organization |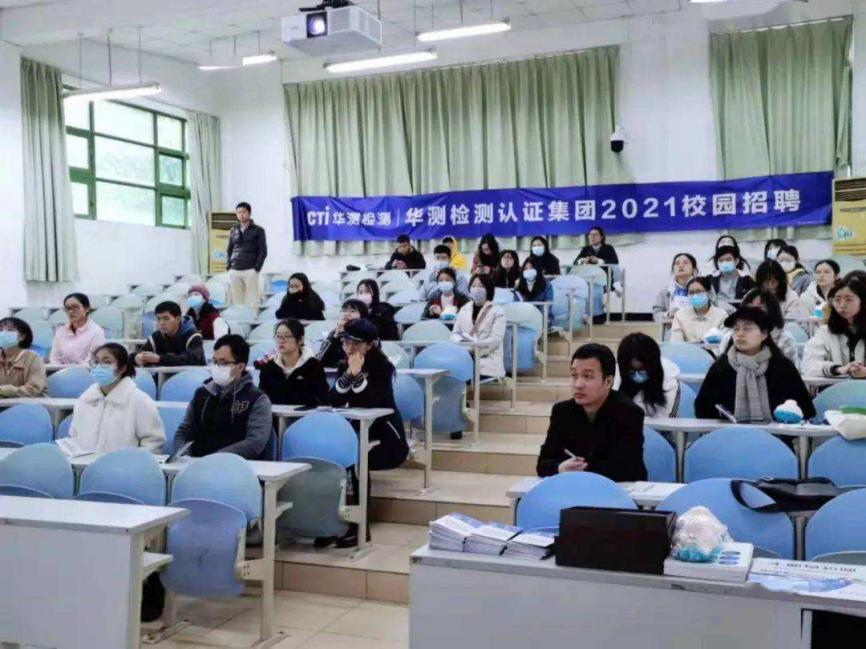 CTI Campus Recruitment in 2021
2. Employee Diversity
Diversity of talents is the driving force for CTI's sustainable development. We hope to establish a more diverse and equal work environment and encourage women and minorities to develop their potential. Our Board of Directors, Strategy and M&A Committee oversee ESG issues, including employee diversity. Our ESG Management Team and ESG Executive Team have identified employee diversity as one of ESG's top priorities. In order to strengthen the employment and retention of people from diverse backgrounds and promote an inclusive and equal corporate culture, we have developed corresponding measures to promote employee diversity:
We insist on selecting and hiring talents in a fair and equal manner.

We adhere to the principle of non-discrimination and do not discriminate against candidates based on educational background, religion, nationality, work background, marital status, gender, ethnicity (or race) and other reasons.

We maintain an open, respectful and inclusive attitude at work, value and listen to all viewpoints, and eliminate unconscious discrimination and prejudice.

We help employees understand the value of diversity and fully consider diversity factors in career development and promotion.
Support the career development of female employees
We actively advocate gender equality and strongly support the personal development of female employees. We encourage female employees to participate in discussion and decision-making and create more growth paths for female employees to realize self-worth. Among all employees, female employees account for 50.3%; among managers and above, female employees account for 38%, and there are 1 female director and 1 female executive. In 2021, we launched the "Women's Leadership" project and a series of female leadership courses on E-learning to support more elite women with lofty dreams, strong execution ability and understanding of the industry to develop their potential.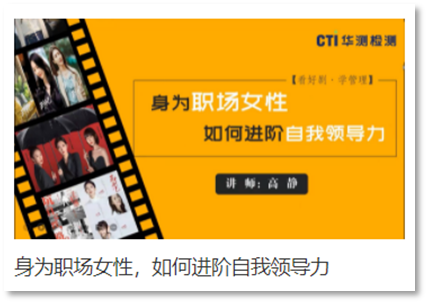 E-learning course on women's leadership
Recruitment of the disabled
We cooperated with RuChang Group to provide auxiliary positions for the disabled. We pay and insure our disabled employees for their work. The insurance costs are fully covered by the company. In 2021, we employed 53 persons with disabilities.
3. Employee Retention
We value talent retention and have a strong talent retention program. We have formulated the Employee Resignation Management Regulation to understand and summarize the reasons for employees' resignation specifically. Based on the analysis, we provided regular feedback on employee turnover rates and provides suggestions for subsequent employee development and retention. During the reporting period, the total number of active employee turnover was 3,036 and the active employee turnover rate was 27.4%.
Our talent retention measures include the following contents:
Developing different coaching policies for different employees, such as designing the "Sunshine Plan Project" for new hires and providing mentors to help new hires achieve career transition.

Setting up long service awards to recognize 15-, 10- and 5-year employees.

Preventing and reducing brain drain through creating a centripetal culture and focusing on staff training and development.

Identifying key talents and retain outstanding management talents and business backbones by implementing employee stock ownership plans.

Conducting one-on-one communication regularly to keep abreast of the thoughts of employees.

Conducting interviews with resigned employees to understand the reasons and promote the improvement of internal personnel management.
4. Remuneration and Benefits
Pursuant to the laws and regulations of China and our operation location, we have formulated regulations and measures such as the Remuneration Management Regulations and the Welfare Management Regulations to regulate the management of employee salaries and benefits. We also observe the national regulations on statutory leaves and paid leaves.
Our salary setting adheres to the principle of equality and non-discrimination and is only based on different job functions and ranks in accordance with established rules. The salary is never affected by factors such as gender, physical ability/intelligence, race, age, nationality, belief, family situation, etc., to ensure that all the rights and interests of employees are equally respected and protected. In 2021, the average salary ratio of men to women was 1.02:1.
We provide our employees with comprehensive basic social insurance and benefits. We pay basic social insurance and housing fund for employees who have signed formal labor contracts with CTI, in accordance with national and regional policy requirements. We also provide additional welfare subsidies for housing, communication, meals, working environment an so forth.
We care about the quality of life of each employee. We provided various benefits such as birthday gifts, maternal and child care, holiday condolences, etc., and hold various activities such as festival activities, team building activities, association activities, employee birthday parties, sport festivals, etc.
We care for female employees and set a special lactation room in the office area. According to the company's regulations, all female employees take a half-day paid vacation on March 8 every year and various activities are held across the country for female employees.
In 2021, we invested 2,237,418 RMB in welfare and activities and held 261 activities with 22,890 employees participating.
Case: International Women's Day activities of the branch company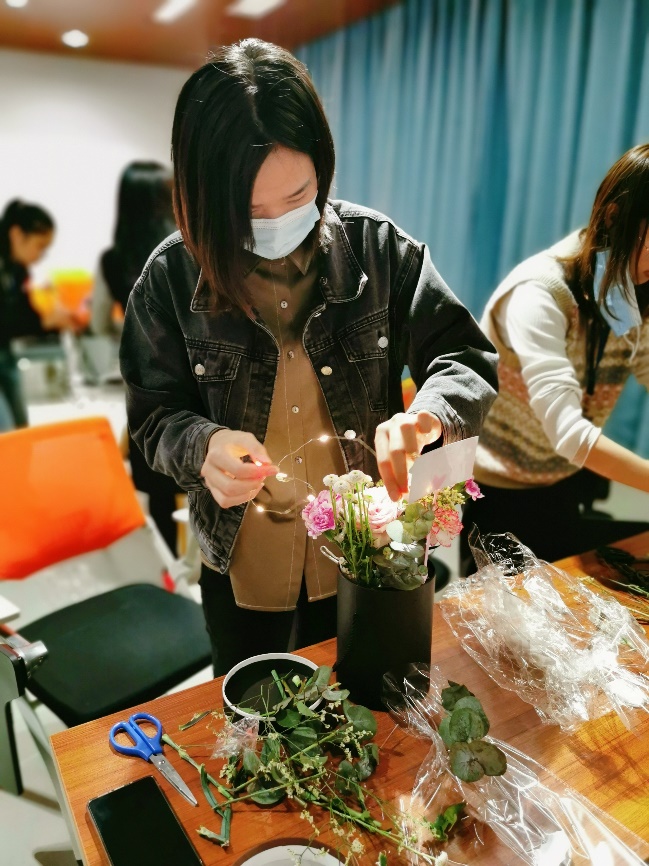 International Women's Day activities in Shenzhen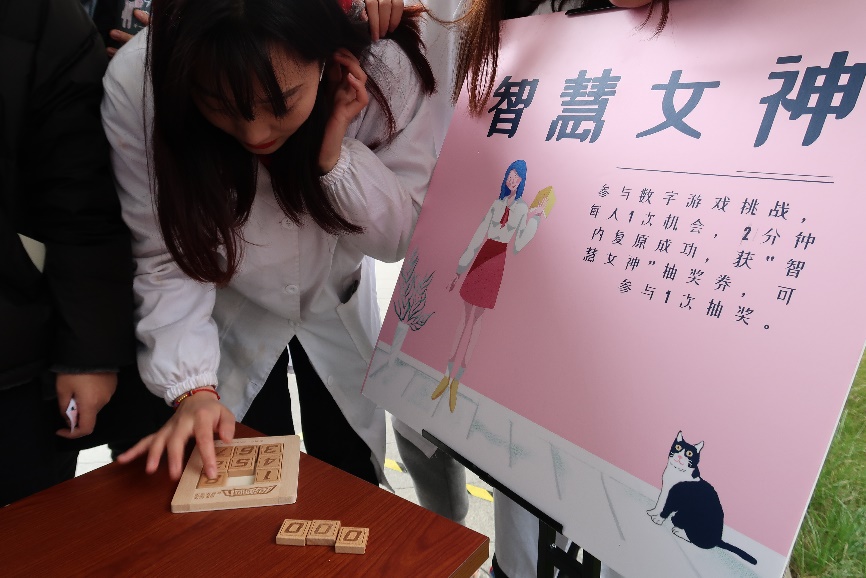 International Women's Day activities in Suzhou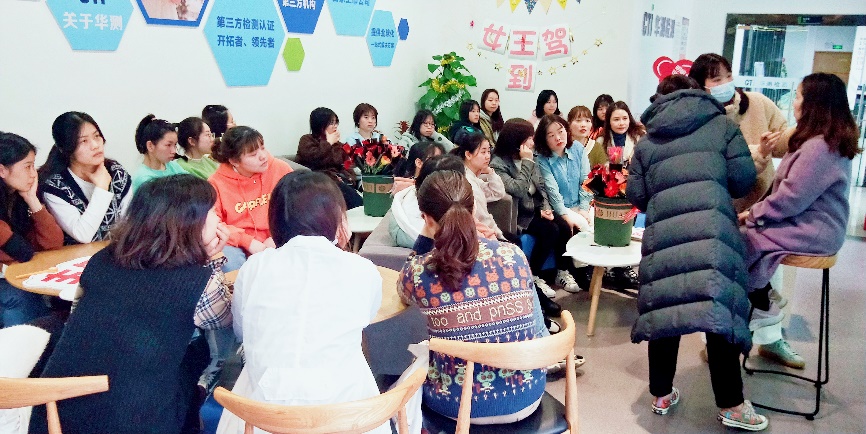 International Women's Day activities in Changsha